Purchase your copy of Dr. Betty Uribe's International Best Selling Book #Values.
#Values | The Secret To Top Level Performance In Business and Life
00000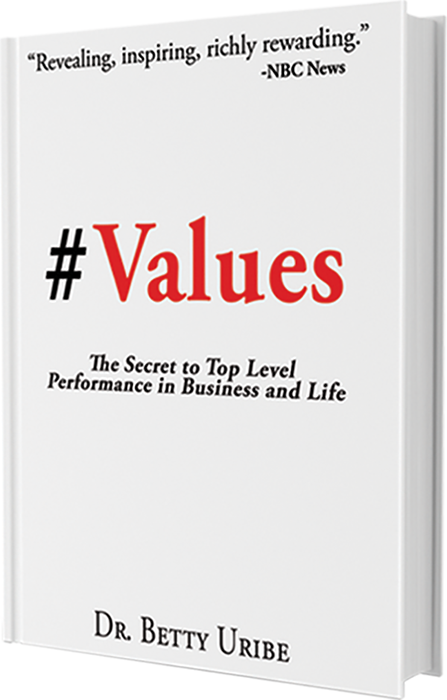 How can a good leader be GREAT? Dr. Betty Uribe Uncovers the Secret to Top-Level Performance in Business and Life. After moving from Colombia at an early age to becoming a C-level executive, Dr. Betty Uribe recognized that the world was crying out for better leadership—particularly better values in leadership. This realization, combined with her goal of helping people succeed, sparked her pursuit to uncover the secret to top-level performance in business and in life. Along her own leadership journey, she learned and observed a variety of leadership styles, which caused her to question why some were more effective than others. After years of research and observation, she discovered that leaders with clear and sound values were the most effective in their profession and their lives. It was clear that values-based leadership was the secret to sustainable top-level performance in business and life. Thus the idea behind #Values was born.
#Values is packed with stories, real-life lessons, and wisdom from some of the top values-based leaders in the world. Throughout her book, Dr. Betty highlights her own leadership journey in business and in life. She deftly blends academic models with her own experience, as well as that of men and women she regards as exemplars of varied styles of effective leadership. She explores the broad spectrum of leadership types and the unifying principle and importance of values. Dr. Betty provides the tools, advice, and encouragement needed to help anyone become a better leader.